Mount Tampa also belongs to the Postavarul Massif and, with a height of about 960 metres, is a rather small mountain in the Carpathians, but nevertheless very worth seeing. And the view of the city of Brasov from the viewing platform is magnificent. I myself enjoyed the view from a wall that is a little higher than the viewing platform every time. Use the cable car (Telecabina) or one of the hiking paths.I recommend the blue paths up and down the yellow one.
The mountain is densely covered with deciduous and coniferous trees and is home to numerous animals. Among them are brown bears, but I never got to see them myself, except for a few traces of the bears' paws in the mud. The mountain is a popular excursion destination and a must for every visitor to the city and therefore sometimes a little crowded.
You can get to the top of the mountain comfortably by cable car (Telecabina) or via one of the signposted hiking trails that start at the Tampa promenade. I tried out several hiking trails. For the ascent, I recommend the blue trail, which is a little longer but not as busy. For the descent, you can choose the yellow trail, but it is marked as more dangerous and you should be careful especially in humid condition.
Hiking Paths:
Promenada – Tampa Peak
Marking: Yellow triangle on white background
Walking time: 45-60 minutes
Promenada – Tampa Peak
Marking: Blue ribbon on white background
Walking time: 60 minutes
Promenada – Tampa Gipfel
Marking: Blue triangle on white background
Walking time: 60 minutes
further trails
go up the blue trail and for up use the yellow path
The trails are accessible all year round, but extra care is needed when it rains or snows. In some places the sometimes rocky path can be slippery. The cable car station operates at different times depending on the season. You can reach it from Strada Republicii in a few minutes on foot. And while you're there, take a short walk along the Tampa Promenade, which offers a beautiful view of the city. There is also a nice restaurant here. On Tampa Mountain itself, there's a little out-of-the-way place where you can get snacks and something to drink.
One thing you can't miss about Tampa Mountain is that right next to the viewing platform, the name of the city is written in huge letters that are illuminated in different colours in the evening.
Tampa Mountain
Location: Brasov
Internet:
Nature and National Parks
Nature and National Parks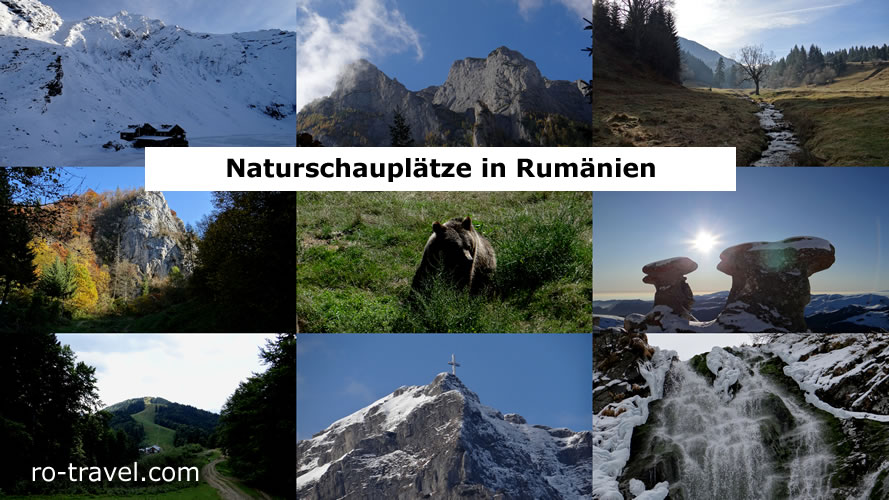 Romania is characterised by numerous nature parks, idyllic forests, mountain peaks, lakes and the sea.