The Carpathian Mountains (Carpatii in Romanian) are a huge mountain range that stretches across numerous countries in Eastern and Southeastern Europe. These include in particular the countries of Romania, Poland, Ukraine and Slovakia. The highest elevation of the Carpathians is the Gerlsdorf Peak ( Gerlachovsky stít) and at the same time the highest peak in Slovakia with 2,655 meters. The second highest peak is in Romania in the Fagaras Mountains (Muntii Fagaras) with 2,544 meters. It is the peak Moldoveanu a popular destination of mountain hikers. The Carpathians are also divided into several regions, including the Southern Carpathians, also known as the Transylvanian Alps, the Eastern Carpathians, whose highest peak is Varful Ineu, and part of the Western Carpathians (Muntii Apuseni), also known as the Carpatii Occidentali.
Carpathian Mountains (Carpatii)
In the Romanian Carpathians you can experience mountain peaks, caves, lakes, primeval forests, wild animals, countless rare plants and much more when you discover the beautiful nature of Romania on one of the numerous hiking trails. The Carpathians are mostly covered with forest. There are also bears, wolves, luxe and many other animals that make their home in the dense forests. Many parts of the Romanian Carpathians are today also nature parks and nature reserves, where you can hike, bike and also climb. What the individual nature parks (Parcul Natural) offer, please refer to the explanations of the respective area.
Nature and National Parks
Nature and National Parks in Romania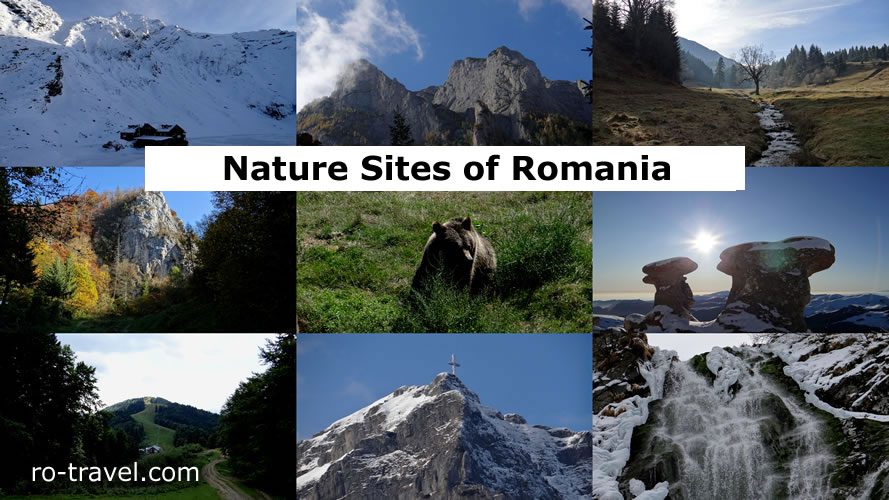 Romania is characterized by numerous natural parks, idyllic forests, mountain peaks, lakes and coastal landscapes.