Romania and especially Transylvania is a winter paradise and not only for skiers or snowboarders, who will find numerous ski slopes here. Winter hiking is also possible in Romania, where hikers still encounter untouched natural landscapes. And also heli-skiing can be experienced in Romania. For example from Sibiu. Ice climbers also get their money's worth. And if you just want to hear the snow crunching under your feet or see the beautiful winter landscapes, Romania is also the right place.
The ski season in Romania, like everywhere in the world, depends on the weather. Therefore, in many places there are snow cannons. Nevertheless, not all slopes are available to skiers or snowboarders at all times. Some slopes, such as in Poiana Brasov or Sinaia, are particularly snow-sure. It is said that the snow season in Romania starts in mid-December and ends in mid-April. The best snow in Romania is usually from mid-January to mid-March. There are numerous ski resorts in Romania such as in Transylvania & other regions of the country. The oldest and probably the most famous ski resort is Poiana Brasov near the city of Brasov which is located in the Postavarul Mountains.
Top Ski Resorts in Romania
Skiing & Snowboarding
The ski resorts in Romania have mostly modern infrastructures and ski slopes with different levels of difficulty.
A very special experience are also paragliding flights over the winter landscape. And for those who would like to go a few rounds on a snowmobile, there are various options. But all the modern amenities would only be half as nice to enjoy without Romania's fantastic winter landscapes.
Heli-skiing is the ultimate skiing experience, which is not cheap, but it is much cheaper in Romania than in other countries. Moreover, heli-skiing combines skiing with a sightseeing flight over the magnificent winter landscape of Romania or Transylvania. Provider is for example: https://www.luex.de
A special experience is also an overnight stay in an ice hotel, as it ensteht every year at the mountain lake Balea Lac. Info at: https://hotelofice.ro/de/
Hints: Roads in Romania are usually cleared quickly when it snows, but you should still have winter tires on your rims and snow chains are necessary on some stretches of road if you don't want to wait that long for the roads to be cleared.
Nature and National Parks
Nature and National Parks in Romania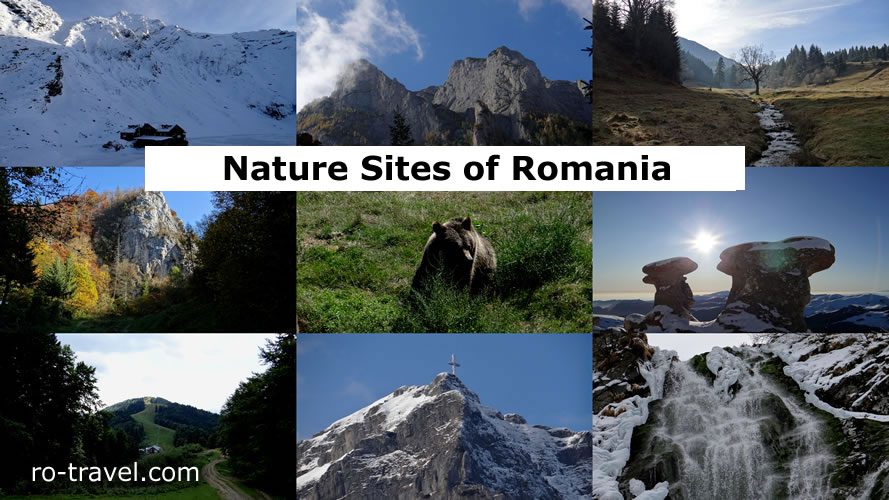 Romania is characterized by numerous natural parks, idyllic forests, mountain peaks, lakes and coastal landscapes.