The natural beauties of Romania are magnificent and the beautiful sometimes unique natural sites are among the highlights in this nature-rich country. Experience mountain peaks, caves, lakes, primeval forests, wild animals, countless rare plants and much more. The numerous hiking trails lead you through the various national parks and offer you a wonderful journey through a fantastic nature, which is one of the most beautiful in Europe. The natural beauties of Romania are magnificent and still host many wild animals!
The natural beauties of Romania are magnificent and still host many wild animals, which you nevertheless rarely get to see, as they are mostly shy. You can walk on numerous trails through the different national parks and experience a wonderful journey through a fantastic Romanian nature and sometimes discover some animals. Some of them can be dangerous, so keep your distance and don't leave the marked paths. It is forbidden and also dangerous.
In the forests of Romania, among others, there are still brown bears, whose tracks can sometimes be seen on the trails. Some places, such as Saint Ana Lake, are considered hotspots for bear sightings, while in other nature parks there are warning signs about bears, such as in Bucegi National Park. Mostly they are shy and you don't get to see them at all. The same is true for lynxes, wolves and foxes, which also live in Romania's forests. You should also be careful of wild boars, especially if they have young ones with them. Dangerous animals include the horned viper, the most poisonous snake in Europe, which is also rarely seen.
More harmless, on the other hand, are birds that exist in Romania, as everywhere else in the world. Depending on the landscape, you can see birds of prey in the sky such as hawks, falcons and golden eagles. By the sea, of course, there are seagulls and the Doanu Delta is a paradise for ornithologists. Here you can also see the pink pelican or purple heron. In the forests there are also woodpeckers, cuckoos, tawny owls, tree pipits, nightingales and spruce crossbills, just to name a few of the more than 100 bird species that exist in Romania. A good place for bird watching is also the Bucegi National Park.
In the rivers of Romania there are not only fish, but also otters and numerous reptiles and in the Black Sea live dolphins and seals. Due to the variety of fish in the rivers and lakes of Romania, the country is also a paradise for anglers who like to go fishing for carp, pike-perch, catfish or whitefish, and pike. In the sea there are sea bream, sea bass, anchovies, turbots and sea bass, to name only the most popular food fish. On the Black Sea there are also turtles. Reptiles and amphibians are also found in Romania, feeding on insects and small animals.
Nature and National Parks
Nature and National Parks in Romania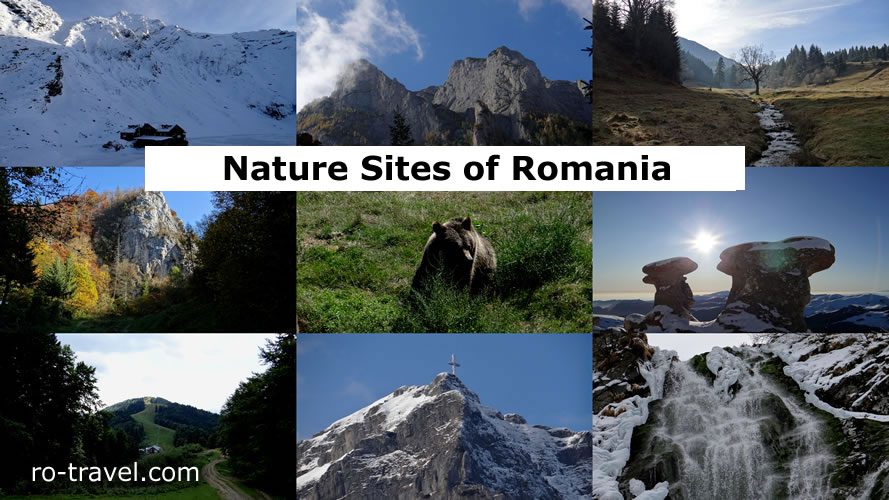 Romania is characterized by numerous natural parks, idyllic forests, mountain peaks, lakes and coastal landscapes.
Wild Animals
Wild animals may sound a little daunting, because the encounter with a bear or wolf can be quite dangerous. However, it is usually the animals that need to be wary of people. Bears, lynxes and also wolves are rather shy and try to avoid encounters with people, because we do not fit into their prey pattern at all. A few precautions and recommendations that I have personally received from Romanians can still be helpful. First of all, one should not leave the hiking trails. Food and leftovers should not be left behind in nature, as they attract wild animals to the footpaths. Strong perfumes should also be avoided. Otherwise, you should follow standard precautions and carry a cell phone in case of emergency. On my hikes I had cell phone reception almost everywhere except in the canyons. It is best to tell the hotel or your host where you are going before you start your tours. There is also a fee to enter some reserves. You can experience nature on your own or in a group during a guided tour. During a guided tour the chance to see animals like bears is higher, because guides or rangers know the best places for observations. Have fun and believe me, Romanian nature will captivate and inspire you.