Maramures Mountains Nature Park (Parcului Natural Munții Maramuresului) is located in the north of Romania and is a nature reserve in the Maramures Mountains, whose highest peak is Vârful Farcău at 1957 meters. Within the nature park are the smaller reserves Cornu Nedeii Ciungii Balasinei, Varful Farcau – Lacul Vinderel – Varful Mihailecu, Tomnatec – Sehleanu, Stancariile Salhoi – Zambroslavele. The forests, valleys and meadows of the Nature Park are also home to numerous animals and plants. The best way to discover the nature reserve is to take one of the marked hiking trails. A ride on the narrow-gauge railroad from Viseu de Sus to Valea Vaserului is also recommended.
Hiking Trails:
Route: Statia Bardau – Vf. Pietrosu Bardau – Vf. Pecealu – Cabana silvica Cosnea – Poienile de Sub Munte
Marking: Red line
Walking time: 10-11 hours
 Route: Statia Suligu – Valea Suligu – Borcut
Marking: Red point
Walking time: 1 hour
 Route: Baia Borşa (centru) – Valea Secu – Refugiul Lucăceasa – Haitul Măcârlău (Valea Vaserului)
Marking: Red triangle
Walking time: 5-6 hours
Route: Cabana Coşnea – Stânişoara – Vf. Mihailecu – Lacul Vinderel
Marking: Red line
Walking time: 5 hours
Attractions:
Glacier Lake (Lacul Vinderelu)
Beech and hornbeam deciduous forests
Narrow Gauge Railway (Mocsnita de pe Valea Vaserului) from Viseu de Sus to Valea Vaserului
Maramures Mountains Natural Park (Parcului Natural Muntii Maramuresului)
Location: District Maramures
Internet: https://muntiimaramuresului.ro
Nature and National Parks
Nature and National Parks in Romania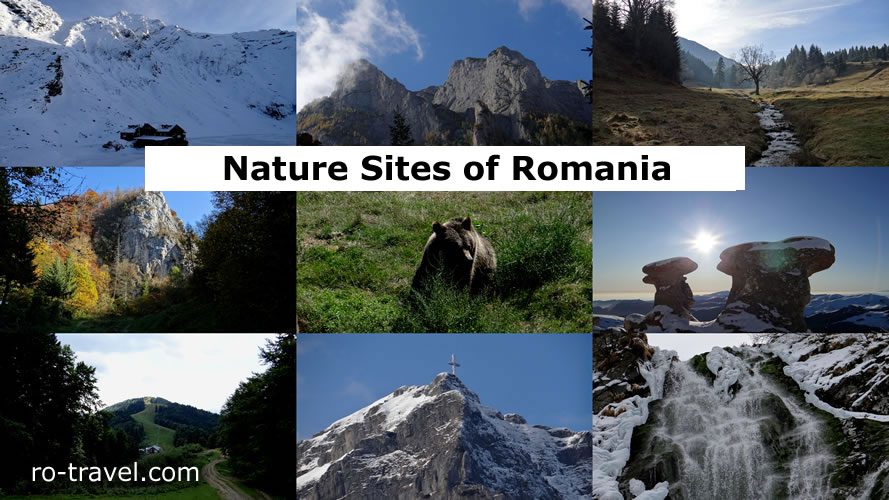 Romania is characterized by numerous natural parks, idyllic forests, mountain peaks, lakes and coastal landscapes.