Retezat National Park (Parcul Național Retezat) is one of the first national parks in Romania, which was proclaimed a protected area in 1935. Today, the national park is one of the most popular nature reserves in Romania, where you can find numerous hiking trails and experience pure nature. The highest of the numerous peaks in this area is Peleaga with 2509 meters. In the altitudes between 1700 and 2300 meters there are also a surprising number of mountain lakes (glacial lakes) among which Bucura Lake and Zanoaga Lake (swimming in the lakes is prohibited). Also impressive are the waterfalls, the most famous of which is Cascada Lolaia. The Retezat National Park is also home to diverse bird species and a variety of animals.
Retezat National Park is located in the Southern Carpathians in Hunedoara County and is a must see for every nature lover. Half of the area is forested and you can still find virgin forests here. By car you can reach the nature reserve through Hateg and Petrosani. Starting points for hiking tours are Carnic, Rausor, Poiana Pelegii, Rau Barbat (Stana de Rau) or Cheile Butii & Campusel. Not all roads are always paved, so drive carefully. In winter you can also ski on the slopes of the tourist complex Rausor and for cross-country skiing there are also numerous routes. Climbing routes can be reached only in summer and can be done only with equipment. They are located in Peretii Bucurii and Coltii Pelegii. There are also the following huts National Park Cabana Buta (1580 m) / Cabana Gențiana (1670 m) / Cabanele din Complexul Turistic Rausor (1400 m).
Hiking Trails:
Carnic – Cabana Gențiana – Lacul Pietrele – Curmatura Bucurii – back
Moderately difficult trail with some special passages
Marking: Blue marking
Walking time: 8- 9 hours
Rausor – Saua Ciurila – Vf. Lolaia – Saua Lolaia – Lacul Stevia – Rausor
Moderately difficult trail with some special passages
Marking: markings change
Walking time: 7- 8 hours
Cheile Butii – Cabana Buta – Vf. Piule – Vf. Plesa – Cheile Butii
Moderately difficult trail with some special passages
Marking: markings change, yellow ribbon on white
Walking time: 8- 9 hours
for more hiking trails see the homepage of the national park
There are also some legends about the area of the Retezat National Park. It is said that it was once inhabited by giants, who created some of the lakes. The peak of the mountain is also said to have been formed by a giant's sword and is called Rezetat. On the top of Piatra Iorgovanului, according to the legend, a seven-headed dragon was killed. You should also see the 2291 meters high peak Varful Gugu, which is also considered the sacred mountain of the Dacians. And there is a legend about the Cascada Lolaia waterfall. It is said that in the past a girl fell at the place of the waterfall, whereupon a deep hole was formed and since then the water masses have been plunging into the depths.
Retezat National Park (Parcul Național Retezat)
Location: Distrcit Hunedoara
Internet: https://www.retezat.ro
Note: Waste (garbage) of any kind must be taken back or disposed of in the marked places. Violations will be expensive in Romania.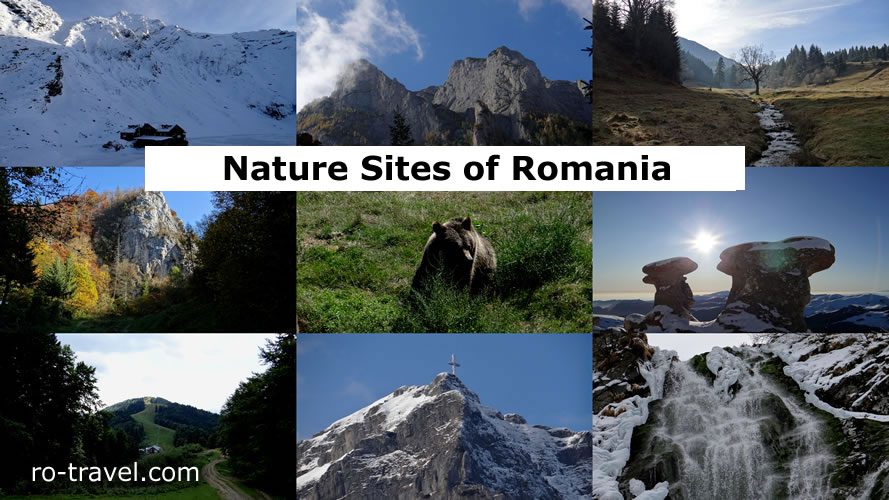 Romania is characterised by numerous nature parks, idyllic forests, mountain peaks, lakes and the sea.